By now you know that Lauren Conrad and I love a contoured face; I do this by "pushing" features inward to create depth by applying a darker color foundation and bronzer in the hollows of her cheeks, temples, along her hairline and under her jawbone. But lately we've taken it one step further by "pulling" other features forward, using a highlighter under her eyes, above her cheekbones and above her brows. It should be subtle and undetectable (hint: BLEND BLEND BLEND!), but you'll see how it really draws the attention to her best feature, her eyes. While promoting her second NY Times Bestselling novel
Sweet Little Lies
this month, I used the technique for extra drama on her appearance on
Jimmy Kimmel Live
(watch the video clip below), for her last book signing in Los Angeles and her appearance on
Good Day NY
(see clip below).
Here's how to replicate it yourself. Basically, picture yourself skiing with goggles on and getting too much sun, when you remove the goggles, that's the area above and below your eyes that you want to lighten with the highlighter. Starting on a clean face that has been moisturized and primed, first correct any under-eye dark circles with your favorite concealer. Then, using
mark cosmetics Get Bright Hook Up Highlighter
(I used the shade "Light" on Lauren), apply the pearly liquid highlighter under your eyes, starting at your nose then working outward. You can use the applicator wand or use the wand to scoop out enough product into the palm of your hand (about 3 or 4 scoops) then apply it with an
egg-shaped blending sponge
, using the pointed end of the sponge to dab it to the desired areas (this really presses the product into the skin). But unlike under-eye concealer, you don't want to only cover directly under your eyes, instead you want to increase the area down to above your cheekbone, all the way from your nose to the beginning of your temples. Then again on about a half-inch above your brows, starting at the outer corner above your left brow then dabbing all the way across to the outer corner above your right brow.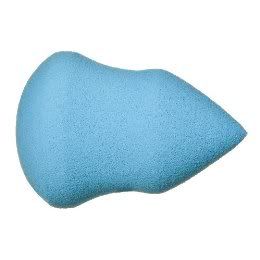 Next apply foundation to your whole face, reaching the perimeters of the highlighted area, but
not
covering it. To be more precise in your foundation application, use a sponge or foundation brush, then blend with your fingers. Then contour your face as described in my posts on
Lauren's Seventeen Magazine Cover Look
and
Lessons in Contouring
. Finally, set with powder if needed, but leave the highlighted area untouched. Try it, email me pics and I'll post them! xoxo
All photos and video courtesy of ABC, My Fox 10, Jimmy Kimmel Live, Good Day NY, WireImage and Mark Cosmetics.