In April's issue of Seventeen Magazine, you will find a perfect example of how you can add lots of drama with individual lashes! You will fall in love with how they really elongate your eyes. At your local drug store or beauty supply, pick up Short, Medium, Long and Mini Individual Flare Lashes, or online you can find Combo Packs that have Short, Medium and Long's and a separate pack of Mini's. I prefer Duralash by Ardell Flare Individual Lashes. You'll also need a lash glue, and I use DUO's Eyelash Adhesive in Clear because it goes on white then dries clear. All can be found online at www.madamemadeline.com




First, I applied two coats of Mark's Make It Big Mascara in Raven on Lauren's top and bottom lashes. (www.meetmark.com) I always focus on applying lashes one eye at a time. Squeeze a pea-size dollop of the lash glue on the back of your hand. You want to give it a minute to get tacky, so I always do this first. With tweezers or your fingers, pull out 4 Long's, 4 Medium's, 3 Short's and 3 Mini's from their case and place them in separate rows on the back of your hand. Starting with the outside corner of your eye, place two Long's on the very end of your lash line, as close to each other as you can get them. Direct them outwards at a 45-degree angle to create more of a cat-eye look. Directly next to the 2 Long's, start adding lashes towards the center of your eyes in this order: 1 Medium, 1 Long, 1 Medium, 1 Long, 2 Medium's then 3 Short's. If you find that you don't have a lot of space between your lash line and your eyebrow, making the Long's look too costume-y, forgo the Long's and instead use 6 Medium's and 5 Short's, same as above, with two Medium's at the outside corners, then every other until you only have Short's left. Repeat with your other eye. If you stick to this order, I promise you will have head-turning lashes!!




On your bottom lash line, place 3 Mini's on the outside corners, carefully placing them between your own lashes. If you are lucky enough to have really long bottom lashes, use 3 Short's instead. Just make sure with bottom lashes, you apply the false ones as if they are backwards! I use my fingers to apply all of the top and bottom lashes, because I really like the control of being able to get in there, but a lot of make-up artists prefer to use tweezers. Lauren also loves to use tweezers when she is applying them on herself before she goes out at night. Just have fun with it, practice until it becomes second nature, or have a girlfriend come over before you go out and apply them on each other!

Here are some more pictures from our shoot...



Here she is with the lovely Lo Bosworth, who had her make-up done by my colleague Natalie Miller: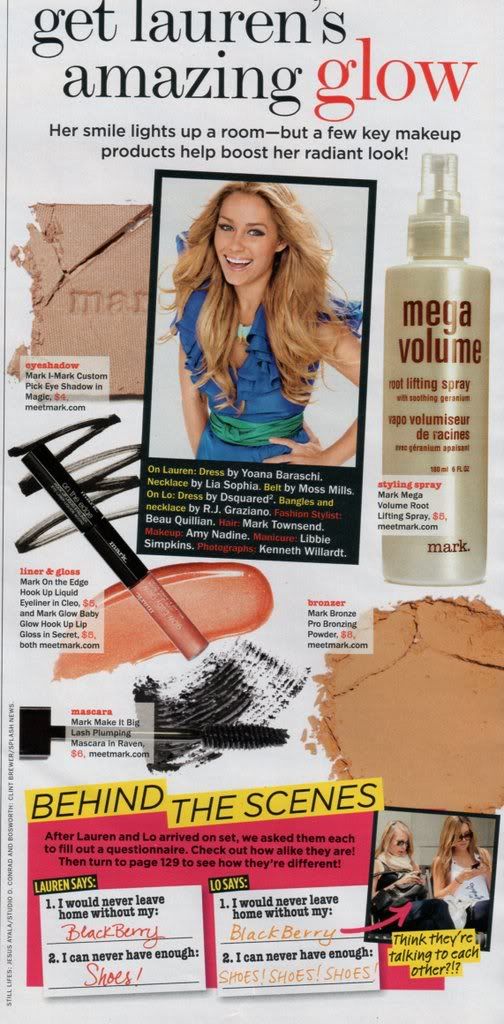 All photos courtesy of Seventeen Magazine, Kenneth Willardt, Ardell and Duo. www.seventeen.com