On today's episode of The Bonnie Hunt Show (seen in the clip above), Miss
Whitney Port
wore a gorgeous and flirty pastel dress from the Spring '10 collection of her own line
Whitney Eve
. So I kept the make-up soft and pretty, using a pearl color on her entire eyelid, pink blush and light pink lipstick. Here are the highlights of this look:
FACE
I prepped her face with
Rodial Skincare Glamotox
, a cult favorite moisturizer that super hydrates and plumps up the skin, diminishing any fine lines.
EYES
Using one of my all-time favorites, I applied the lightest color (pearl) from
The Body Shop Shimmer Cubes
. But I applied it WET for more intensity and impact! Pour a splash of water in the lid of the package and dip your eye shadow brush in it until it is fully soaked. Then drain out excess water by pressing the brush against the side of the lid. Dip the wet brush in the pearl color and swirl it around to make a paste then test the consistency on the back of your hand. If it's too water-y, go back in the product and swirl some more until you've loaded up the brush with a nice "paste". I always go back and test it on the back of my hand before applying it to the eyelid. When you're happy with the solution, do a "color wash" (a single color on the entire lid and crease) by sweeping the color across your lids and crease. Break up any small clumps with your ring finger. You'll find that this eye shadow applied wet is the most gorgeous finish ever! (And the 3 other colors are amazing wet as well, when you're in the mood for something darker.)
CHEEKS
My favorite 3-in-1 cheek palette right now by far is the
Shimmer, Shape and Glow Face Defining System
from Mally Beauty. On Whitney, I used the "In The Pink Lighter" palette because the bronzer isn't "muddy," the pink looks gorgeous on everyone and the highlighter has the perfect amount of shimmer. Apply the bronzer with a kabuki style brush on the hollows of the cheeks and directly on the cheekbone. (Then of course add a quick sweep across your hairline, temples and under your jawline.) Apply the pink shade to the apples of your ckeeks and the highlighter just above your cheekbone.
LIPS
I used
Cle de Peau Extra Silky Lipstick
in #105, a really happy and feminine pink color that feels like silk when you apply it. It's a little bit of a splurge but it does last a long time and is such a treat for your lips.
Here's a shot of Whitney wearing this look later that night (after a quick wardrobe change!) at the Alternative Apparel launch of Rethink.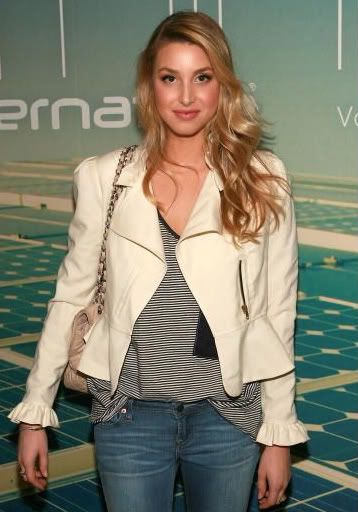 All photos courtesy of WireImage, Rodial Skincare, The Body Shop, Mally Beauty and Cle de Peau Beauty.